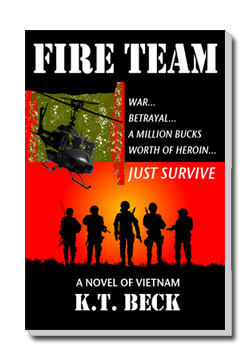 Fire Team is available on Amazon in both paperback and ebook formats.
Read the first two chapters free. (Click here to open a .pdf file and then save the file to your computer.)
Fire Team:
When Lieutenant Harry Siddons hit Vietnam he was brash, confident and filled with the pragmatic optimism of a young man straight out of ROTC. But six months as an intelligence officer interrogating North Vietnamese prisoners has shorn him of his innocence. The casual brutality of his job changes him, turning him into someone that he barely recognizes. He keeps an apartment off-base where he lives with his girlfriend, Li, a beautiful woman who uses his passion for her to keep him on a knife-point of desire and frustration for reasons that he doesn't begin to suspect.Then he and his interpreter, Captain Tran of the ARVN, stumble across information leading to a fallen North Vietnamese helicopter and its million dollar cargo of heroin. Harry finds himself ready to take any risk that might free him from the daily horror of his small corner of the war.
Harry must convince the four Marine grunts who brought the captive helicopter pilot to Da Nang to guide Harry and Tran to the crash site. The four Marines, the only survivors of a running firefight that started at the downed chopper, carry a terrible secret of their own and are only too glad to trade everything for a chance at the riches lying out in the jungle.
Finding the drugs turns out to be the easy part. The shipment of heroin was being flown by renegade Viet Cong from the Golden Triangle to corrupt American soldiers in South Vietnam. A sinister Colonel and his murderous Sergeant set out to ambush Harry and his group. Meanwhile, Li reports what little information she has needled out of Harry to her Viet Cong superiors. She has no idea that the heroin even exists, so she is puzzled when she finds herself in the company of the brutal Comrade Tho, following Harry's trail into the bush.
Barely escaping the ambush at the crash site, Harry, Tran and the four Marines find themselves carrying twenty sacks of heroin in the jungles near the Ho Chi Minh Trail, pursued by corrupt soldiers from both sides, as well as any local VC cadres who might have heard the shooting.
The exhausting flight through the jungle brings Harry and his men to the ghostly remains of a deserted French plantation. There, in the crumbling ruins, as the web of greed and violence closes in, Harry and his companions finally face the demons they carry. Secrets are revealed; acts of treachery and heroism mingle in bloody conflict. Stunned to learn the truth about Li, Harry nevertheless realizes that his last chance for redemption is to trust her one more time.
Fire Team is available on Amazon in both paperback and ebook formats.